Covid-19 has turned our world upside down in a very short number of months. History will record how a pandemic spread so quickly with the help of a fast, convenient and modern travel network and wreaked havoc on all aspects of our lives. Among other things it's boosted a part of the economy that was perhaps naturally progressing, at least in some sectors.
There are some trends that are obvious and this has been one of them. With office out of bounds for most office workers who are fortunate enough to still have employment, there has been a cosmic surge in the sale of home office products.
It starts off with a laptop on the kitchen table and before you know it, you're running a complex setup in your own little corner of the home that is out of bounds to all during work hours. A good setup at home is the difference between being productive and simply counting the hours.
While almost every regularly used item has seen stocks run low at shops, the one that resonates most is the humble office chair. You can work on the single screen of your laptop and you don't have to splash out on great peripherals, but your back needs support if you're going to be sitting at it for long periods.
We'll be counting down a list of top office chairs we wouldn't be caught without so your back stays supported while you build out your home office. Our list will have a range for every budget so if you're not going to be splashing out big for the big one, at least you can look at it in envy. These are in no particular order by the way.
No list of amazing chairs is complete without the Embody Chair by Herman Miller. The price is no-doubt steep for most. But the joy of sitting on one of these is worth the price tag. It's packed with ergonomic features. It helps reduce muscle aches and pains. It keeps your posture right and keeps stress on your back to a minimum.
It also comes with a 12 year warranty from Herman Miller. Here's hoping that Covid is eradicated by then.
The theme so far seems to be ergonomics. And the Ergohuman mesh chair from eurotech certainly does deliver. The chair comes in mesh, leather and fabric to suit any taste. But we prefer mesh chairs for their breathability for those long sittings.
Like the previously mentioned Herman Miller, the Ergohuman chair is also a high-back chair to support the entire height of your back.
The Gesture chair by Steelcase is a great entry into this list. It's priced similarly to the Herman Miller chair but rightly so. It's highly customizable with your choice of colors and fittings. And it deserve a spot in any cool office just on the looks alone.
Lucky for it, it has more than looks going for it.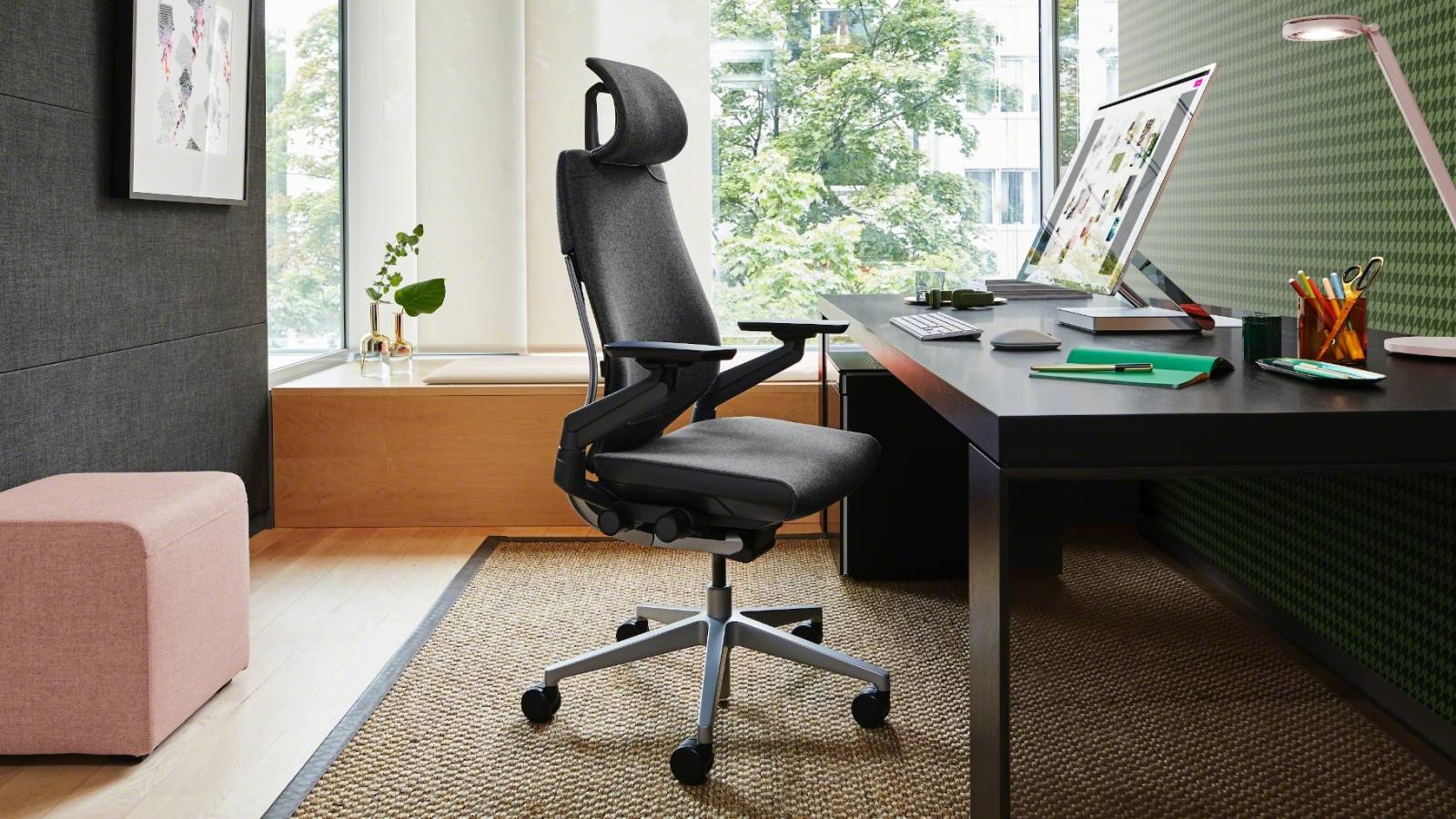 One of the most affordable chairs in our list. The HON Exposure Mesh High-Back Task Chair (phew) is comfortable, breathable and affordable (at least compared to other entries in this list).
Price aside, there's much more to like about this chair. It has the mesh back we love for increased breathability for long sittings. Its arms are adjustable and it doesn't hold back on comfort even given the lower price point.
Something that isn't Herman Miller on our list is this Plymouth office chair. It's great for larger bodies, but equally great for those with less to work with. It's well cushioned for the large and strong. It has a few adjustments to work with to get that perfect posture and the high back means you're supported all the way through.
The most affordable chair on this list is this Alera Elusion high-back chair. While not as fancy as its competitors on this list, it does have to lot like about it. Mesh back for breathing which we can't stress enough, adjustments for hand rests and a comfortable angle to put your back on. If you're on a budget and are happy to compromise on some points, the Alera Elusion chair is a great consideration.
These are just a handful of top chairs we found on the market right now with varying budgets. While expensive doesn't always mean you're getting the best, the chairs listed here are definitely worth the money at least in our estimation.
Happy sitting.